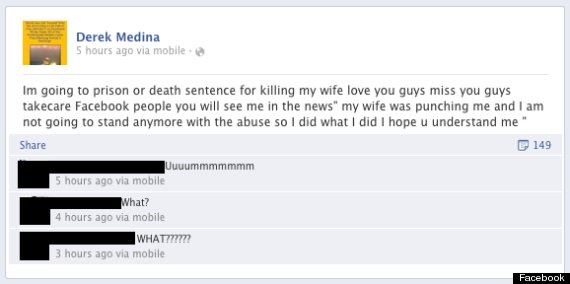 A disturbingly graphic photo of a bloody woman lying on a kitchen floor with the caption "Rip Jennifer Alfonso" was uploaded to Facebook earlier today. Moments later a confession status was posted. "Im going to prison or death sentence for killing my wife love you guys miss you guys takecare Facebook people… my wife was punching me and I am not going to stand anymore with the abuse so I did what I did I hope u understand me ", Derek Medina posted.
The Huffington Post is reporting that the 31 year old then drove himself to the South Miami Police Department and turned himself in. When they arrived at the Florida home Medina shared with family, they found his wife's lifeless body and their ten year old daughter, who was unharmed. "You will see me in the news," Medina posted on Facebook, and he was right. He turned his Miami home into a crime scene when he apparently shot and killed his wife.
In an unusual and shocking twist, Miami News Times has reported that Medina is the author of several self help e- books. It's obvious that there is more to this story than what is on the surface. Medina posted about being abused and although domestic abuse situations where the woman is the abuser are more rare, they happen. It's unfortunate that Medina didn't seek help and took such drastic measures to find a way out. At the end of all of the madness, the one who ultimately suffers will be the child. As the result of what seems like a hasty decision made by Median, the child now loses her mother and father; her mother to gunshots and her father to prison, or worse. It's always sad to hear stories of tragedy, especially when a child's livelihood hangs in the balance. The investigation is still ongoing. 
Photo credit: http://www.huffingtonpost.com/2013/08/08/derek-medina-facebook_n_3728077.html?ncid=edlinkusaolp00000003